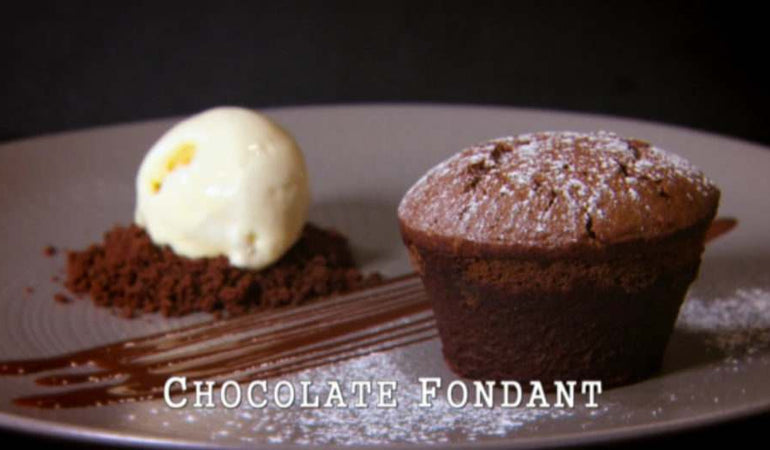 Chocolate Fondant with Vanilla Ice Cream
15 March 2017
Ingredients
For the Vanilla Ice Cream:
1 level tsp super neutrose (sorbet stabiliser)
For the Chocolate Fondants:
140g 70% chocolate (drops)
Instructions
1To make the Vanilla Ice Cream:,Add the milk, cream, vanilla, 90g sugar and super neutrose into a large saucepan and bring to the boil
2In a clean bowl, whisk the 250g sugar and yolks until light and well combined
3Gradually pour over the hot milk mixture (allowing the eggs to temper), whisking continuously
4Cool in a large gastro (roasting tray) in the fridge
5Once cool, transfer to an ice cream machine and churn until frozen
6For the Chocolate Fondants:,Brush the fondant moulds with butter, sieve over cocoa powder and then tap out the excess so that you are left with a nice even coating to line
7Add the butter and chocolate to a pan and place over a gentle heat to melt. Set aside to cool slightly
8Add the whole eggs, yolks & caster sugar to a kitchen aid bowl and using the whisk attachment beat until light and fluffy and the mixture holds a trail (this is called a sabayonne). NB. If you don't have a kitchen aid/ stand alone mixer you can use an electric hand mix and any large bowl to the same affect
9Gently fold through the chocolate mixture until just combined. Do the same with the flour
10Divide the fondant mixture evenly among the moulds and set aside until service
11To finish, bake in the oven at 180C for 11 minutes
12For the Chocolate Soil:,Butter & sugar,Flour and cocoa powder. Chill for an hour to firm,Roll thin - bake as a sheet 160C approx 12-15 minutes or until cooked
13For the Chocolate Sauce:,Melt the chocolate over a bain marie then take off the heat and set aside
14Combine the milk, cream and sugar in a saucepan and bring up to the boil. Once up to temp, pour over the melted chocolate, return to the pan and simmer for a few seconds, stirring continuously
15Remove from the heat and then gradually whisk in the diced butter a cube or two at a time to give the sauce a nice glossy finish
16Pass through a chinois and transfer to a squeezy bottle ready to serve
17To Serve: Garnish the plate with chocolate sauce. Put fondant to one side and soil and ice cream to the other.