Stainless Steel Pan Sets
We craft our stainless steel pan from the most durable materials, meaning that they're guaranteed to withstand even the toughest demands in the kitchen. With stainless steel frying pan sets amongst a variety of new and exclusive collections, you'll find only the most innovative features on Prestige stainless steel pans.
Choose from nestling cookware, straining pans perfect for cooking pasta or specialist non-stick stainless steel pots and pans, all for sale online with Prestige. If you'd like to learn more about the technical features and uses of our stainless steel pans, read our informative FAQ section at the bottom of the page.
Read More
Read Less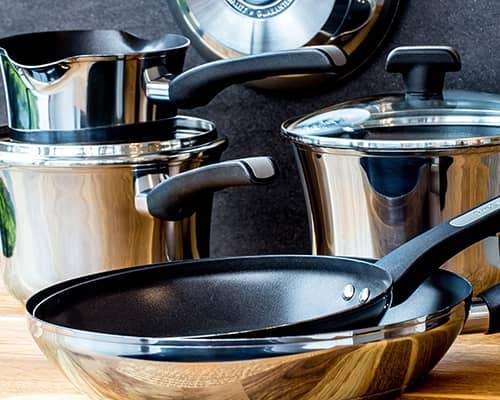 Stainless Steel Cookware FAQs
Stainless steel cookware is the first choice amongst culinary enthusiasts and top chefs across the globe. Not only does its shiny, polished appearance give a sleek, professional aura to any kitchen, but its practicality and durability make it equally hard to resist.
When you use a stainless steel frying pan, saucepan, or cooking pot, you'll enjoy unrivalled versatility. Perfect for braising, boiling, frying, steaming, sautéing, poaching and more, the possibilities with stainless steel pans are almost endless. Furthermore, the material is non-reactive and surprisingly easy to maintain, making it a perfect choice for busy households.
Overall, stainless steel is an affordable, multi-purpose, and long-lasting choice for your pans. What's more, if you choose a Prestige 9 X Tougher stainless steel non-stick pan set, you'll enjoy ultimate peace of mind that your pans will stand the test of time.
Stainless steel doesn't chip, scratch or warp easily, making it relatively easy to look after. However, it's still possible to damage even the sturdiest stainless steel frying pan, especially if you accidentally use unsuitable utensils.
To keep your stainless steel pan set in tip-top condition, we'd recommend that you:
Cool the pan first
Always allow your pan to cool down before washing it. Placing a hot pan under cold water could cause it to warp in a reaction known as thermal shock. If you need to wash a still-hot pan, just make sure to use warm or hot water.
If you're struggling to clean any stubborn marks, it could be worth soaking your pan first. Add a mild detergent to warm water and leave your pan to soak for a few hours before softly scrubbing it.
Cook on a medium heat
Ready and raring to go with your new set of stainless steel pots and pans? Before you get stuck in with your all-time favourite recipes, just remember not to turn the heat up too high straight away. Even if you're in a hurry to boil pasta with a clever Cook & Strain set, choosing a medium setting will release heat more easily from the surface, reducing the chances of food sticking.
Use soft utensils
Stainless steel is a sturdy, scratch-resistant material, but you can still help to preserve it by choosing your utensils carefully. We suggest using wooden spoons and spatulas over metal ones, primarily to avoid scratching the surface of your new pan.
Alternatively, silicone utensils offer improved flexibility to help you to reach all the nooks and crannies in your pan. Luckily, it's easy to find the best spatulas online to help you to make the most of your new stainless steel cookware.
Dry your pans quickly
Even though it's safe to soak dirty pans for a short while, unsightly water spots can appear after prolonged exposure to oxygen in water. To keep your stainless steel pans pristine, dry your pan as soon as you've finished washing it. To remove white spots, try adding a small amount of baking soda before scrubbing gently with a sponge.
We design all Prestige stainless steel pans to be induction-compatible, so you won't need to search specifically for stainless steel induction pans. However, we recommend checking the specifications of your pan online if you're unsure.
If you're new to cooking on an induction hob, the general rule of thumb is that cookware must be made of a magnetic-based material. This is because induction hobs work using magnetic conduction from a copper coil underneath the glass surface. When you place a pan on the surface, an alternating current passes through it and heats only the base of the pan.
When a non-magnetic material touches an induction hob, it won't heat up. This means that pans made from aluminium, brass, or copper won't be compatible unless they have a special iron-bonded base. Prestige stainless steel pans are induction-suitable thanks to their premium, magnetic-grade manufacture.
Looking to save money on your new cookware? If you head over to our exclusive cookware offers page, you'll find some of the best deals on stainless steel pan sets in the UK.
Alternatively, if you choose three or more Prestige products to create your own pan set, you'll benefit from 15% off your entire order. Whether you're looking for a non-stick stainless steel pan or a small stainless steel milk pan, you'll find the perfect pick here.

Stainless steel pans help you to create delicious, healthy food in a few simple steps. If you know any brilliant tips or techniques, feel free to share them in the comments section below. For questions about your order or any of our stainless steel pans, don't hesitate to get in touch.