Skillets & Frying Pans
A good-quality frying pan can be a life saver in your kitchen! If you're looking for a new one, our exclusive Prestige collection offers innovative, high-quality, non-stick frying pans that allow you to cook with little-to-no oil. With Prestige, adventurous, healthy and nutritious cooking has never been easier.

Whether it's breakfast for one or a fry-up for four, we make frying pans big enough to cook your eggs, bacon, sausages and tomatoes all at the same time, saving on energy and washing up! To find out more about the specialist frying pans for sale from Prestige, see our FAQ section below.
Read More
Read Less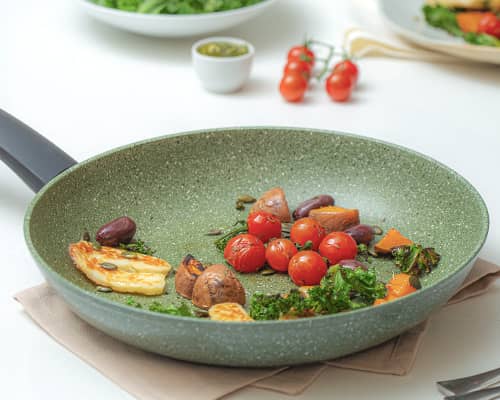 Frying Pan FAQs
From cast-iron frying pans to our 9 X Tougher aluminium frying pans, it can be tricky to know which type to choose – especially if you're thinking about spending a little bit more on a good-quality frying pan to last you through the years. If you're looking for an all-rounder, the stainless-steel, non-stick frying pans in our Scratch Guard range make a hard-wearing, versatile choice.
If you're new to buying frying pans or if you're replacing your entire collection, we'd recommend buying a new Prestige frying pan set. Along with ensuring that you'll have pans in varying sizes, buying a new set also means that you'll own frying pans suited to specific techniques in the kitchen, helping you to master a new repertoire of recipes.
Whether you choose to buy your new frying pan set with lids or without, it's important to make sure that you have both a small and a large non-stick frying pan in your collection. With Prestige, you can even create your own pan set and save 15% on three or more pans from those included in our exclusive bundle deal.
Frying pans and skillets look almost identical and, thanks to their extremely similar design, it's possible to use the two interchangeably. The only technical difference is that skillets are typically slightly deeper than frying pans, largely thanks to their sloped sides. A skillet is not to be confused with a griddle or grill frying pan, which both have different uses entirely.
Even though subtle differences make skillets slightly better suited to dishes where your ingredients might get a little bit more airtime – like tossing vegetables or flipping pancakes – both still make practical additions to any kitchen. You'll be able to create just the same dishes with a skillet as you would with any large non-stick frying pan.
Absolutely! Modern non-stick frying pans are made in line with strict procedures to ensure that only certified materials and chemicals are used in the manufacturing process. In the past, a chemical called perfluorooctanoic acid, known as PFOA, was used on non-stick coatings. However, after medical studies found links between the chemical and various illnesses and disorders, PFOA was banned in several countries. As with any Prestige cookware, you can rest assured that all our non-stick frying pans are PFOA-free and safe to use.
Induction frying pans and hob pans are simply those compatible with an induction stovetop. Unlike gas stoves and heating elements, induction stovetops heat pots and pans by electrical induction through copper coils. Made with either an iron, steel or stainless-steel base, these pans are magnetic and offer improved efficiency and temperature control. If you've just upgraded to an induction stovetop, investing in a new induction pan set will ensure that you can cook with confidence and enjoy all the perks of this innovative technology.
Even though most Prestige pans are dishwasher-safe, we always recommend washing your frying pans by hand. This is because the cumulative effect of harsh, hot dishwashing cycles and detergents could eventually corrupt or dull the non-stick surface of your frying pan.
Plus, using warm soapy water and a soft sponge or brush makes it easier to guarantee the longevity of your frying pan, since using hard bristles or steel wool could scratch its non-stick coating. Specific cleaning instructions will vary depending on your chosen frying pan model but you can always refer to our online guides to caring for your kitchenware.
At Prestige, we know that small changes make a big difference when you're trying to live an eco-friendlier lifestyle. That's why we've created our exclusive range of sustainable Prestige Earth Pan recycled frying pans and cookware with the future of the planet in mind.
Made entirely with recycled aluminium, manufacturing Earth Pans produces 88% fewer carbon dioxide emissions than methods used for our aluminium pans. Finished with a toxin-free, ceramic non-stick coating, you can enjoy peace of mind that you'll be using one of the most sustainable frying pans on the market. We're focusing on reducing our impact on the planet and, with these pioneering frying pans, now you can too.