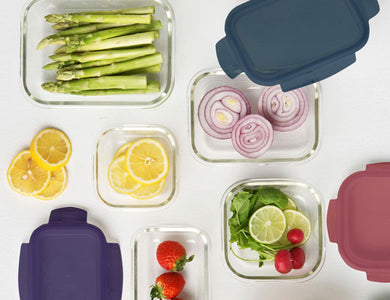 Oven Dishes & Glass Food Containers
We're proud to have teamed up with the experts at LocknLock to provide multi-purpose home kitchen solutions! These quality, versatile glass food storage containers are made using the best cookware materials.
Our LocknLock containers are perfectly designed for storing food, featuring four-sided locks within the lid to create an exceptional air and watertight seal. This firm seal means that your food will be fresher for much longer.
What's more, the glass food containers in this collection are oven-safe, meaning that they can be doubled up as oven dishes to be used for cooking your favourite baked meals. Need to re-heat or freeze your dishes? No worries, these food containers are also microwavable & freezer-safe.
Whether you've made a little bit too much for your tea or you're meal prepping for the week ahead, we've got you covered. Read our guide below to find out why glass food containers with lids make such a fantastic addition to your kitchen.
Read More
Read Less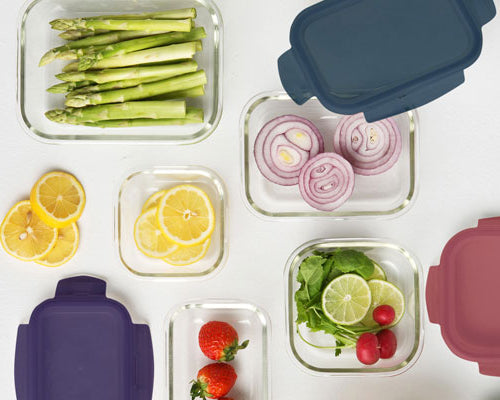 Oven Dish & Glass Food Container FAQ
Whether you're a city commuter or a busy working parent, you'll know the importance of having a reliable set of food containers for lunches on the go. While plastic tubs might be an affordable option, dealing with a cracked or damaged lunchbox can be inconvenient – not to mention how easy it is to lose the lids. We prefer glass food storage containers, and here's why:
They're solid and sturdy
Glass dishes are tough enough to handle the daily routine – and, complete with matching, colour-coded lids, they're also much easier to keep organised in your kitchen cupboards. Why not choose the Eco Glass Container Set to make sure that you've got one in each size?
They won't leak
With LocknLock's watertight seal, you can enjoy the peace of mind that your food won't leak or spill, even if you're carrying it in a bag. Plus, such a strong seal allows you to safely store leftovers in the fridge, keeping them fresh for longer.
They're freezer-safe
It's not always easy to find an oven dish on which you can rely but the LocknLock glass containers do more than just hold your food while it cooks. If you've made too much or you're saving some fresh portions for next week, you can simply put your glass container in the freezer.
They can be used as oven dishes
Our glass food containers can strongly withstand not just heat but rapid changes in temperature, too – making them a reliable, versatile addition to your kitchen. Whether you're storing still-hot leftovers in one or using it to bake a casserole, you won't need to think twice.
All of the glass storage containers included in the Prestige range are heat-resistant up to 400°C. However, it's important to remember that the lids aren't made of the same materials as these glass dishes – only the body is oven-safe.
Since these oven dishes can withstand such high temperatures, they're also safe to use in an air fryer and in the microwave.
If you've been cooking saucy, decadent stews and casseroles in your glass oven dishes, you might be wondering how best to clean the stubborn, dark brown stains around the sides. There are a few ways to shift those stubborn stains with little effort:
Detergent
One of the main benefits of using glass containers with lids is that they're so much easier to clean than plastic ones, and you'll never see the same kind of oily, stained residue.
Among the most effective ways to clean glass oven dishes is simply to use ordinary dishwashing detergent with warm water. With a little bit of elbow grease, you should easily be able to shift debris and dirt from the middle and the edges of your oven-proof dish.
Bicarbonate of soda
Oven baked dishes sometimes come hand-in-hand with a burnt-on mess. To remove the toughest dirt, coat the bottom of your glass oven dish with a combination of bicarbonate of soda and dish soap, and then leave it to soak in water for at least 10 minutes.
Next, grab a sponge and start to scrub, sprinkling more bicarbonate as you go. This method will help to dissolve stuck-on food deposits without being abrasive enough to damage or scratch your oven dish.
The Magic Eraser
Many home chefs swear by the Mr. Clean Magic Eraser, which boasts even stronger cleaning power than household bleach sprays. It looks and feels like a sponge, and you'll also be able to use it on your kitchen appliances and bathtub as well as your glass food containers.
Whether you're looking for a new casserole dish for your hob and oven or you'd like a reliable storage solution for your packed lunch, Prestige can help. Our fantastic selection of glass food containers with lids allows you to enjoy unrivalled flexibility in the kitchen and on the go.
Thinking of upgrading your cookware with us, too? If you create your own pan set online, you can enjoy 15% off when you select three or more pans. Improving your kitchen doesn't have to cost the earth, and we're here to help to make it easier.
Browse the full collection today and don't hesitate to get in touch if you have any questions about our glass containers with lids – or anything else in our collection.