Non-Stick Pan Sets
Non stick pan sets for simple, healthy cooking. Their superior PFOA free coating ensures that food doesn't stick and makes cleaning a breeze - so that you can spend more time enjoying your food. Make adventurous and nutritious home cooking simpler with a new Prestige pan set.
With a variety of materials and styles available, we offer an eclectic mix of non-stick saucepan sets, frying pan sets and varied cookware sets to suit your needs. To find out more about the exceptional non-stick pans for sale online with Prestige, see our handy FAQ section below.

Read More
Read Less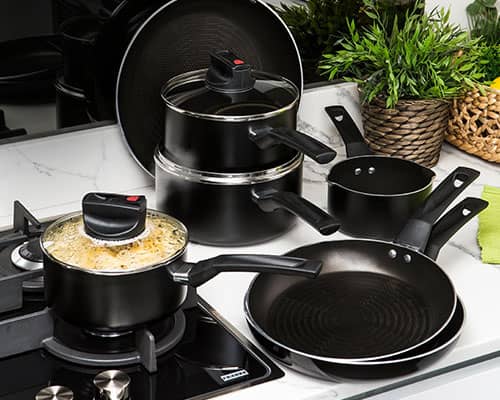 Non-Stick Pan Set FAQs
Whether you're an experimental home cook or you've been a professional chef for years, a quality non-stick pan is the ultimate kitchen necessity. Since you'll probably be using your pans almost every day, it's worth investing in a reliable, robust pan set.
Whether you're looking for a non-stick induction frying pan or a large non-stick frying pan with a couple of saucepans too, you'll find only premium -quality cookware with Prestige. Cooking with non-stick pans not only prevents food from sticking, but also means that you can enjoy an easier clean-up process afterwards.
It's important to think about the type of hob on which you'll be cooking when you choose your new non-stick pan set. Even if you're only planning on buying a new non-stick griddle pan to help you to sizzle and sear a steak to perfection, making sure that it's compatible with your hob should be one of your first priorities. If you're in any doubt, don't hesitate to get in touch or check your pan's specifications online.
Ceramic
Most pans are compatible with ceramic hobs, but you might need to be a little bit more careful while you're using one. Try to choose pans with a flat, smooth base to ensure optimum contact with the hob surface. Make sure that you move heavier pans, including traditional cast-iron ones, extra -carefully across a ceramic hob to avoid scratches.
Gas hobs
Cooking over gas gives you ultimate control over the temperature of your pan. Every type of pan is compatible with a gas hob, but you'll benefit more from those with thinner bases. Try to regulate the size of the flame to prevent it from extending beyond the pan's base, especially if you're only using a small non-stick frying pan.
Induction hobs
When you cook with an induction hob, all of its power goes straight into heating the pan. Since these hobs waste no energy heating the surface, using an induction stovetop is one of the most energy-efficient ways to cook.
Before you use one, you'll just need to make sure that your pans are compatible. Induction-friendly pans are those made with a magnetic base like stainless steel, cast iron, or an aluminium base bonded with magnetic metal. If you're buying a new non-stick pan set from Prestige, you can rest assured that every pan is already induction-suitable – but you can still search for a non-stick induction pan set.
One of the most important things to bear in mind is that not all ceramic pans will be compatible with an induction stovetop. This is because induction stoves heat pans through their reactive metal surface, meaning that the stovetop itself never gets hot.
However, most modern ceramic non-stick pans are compatible with induction stoves. This is due to them having induction plates built into their bases. If you're new to cooking with an induction hob and you'd like to know how it works, it's worth checking out an induction hob buying guide before you choose new non-stick pots and pans.
Non-stick pans are delightfully easy to clean, but it's still important to take care of your Prestige cookware. Even though Prestige cookware is dishwasher-safe, we always recommend washing every pan in your non-stick pan set carefully by hand with warm, soapy water.
Use only soft sponges and utensils, avoiding abrasive materials like steel wool or hard-bristled brushes. Wash your non-stick pans with a circular motion, being careful not to apply too much pressure. For stubborn greasy stains and deposits, try soaking your pan with a solution of warm water and baking soda.
We're taking the future of the planet seriously. If you're looking to take a more sustainable approach to your cooking, our flagship Eco cookware range will exceed your expectations. Made using recycled materials, this unique collection of non-stick frying pan and saucepan sets is also fully recyclable. What's more, we've partnered with Tree Aid to plant a tree for every Eco pan that we sell.
Alternatively, choosing a non-stick frying pan set from our Earth Pan collection could make a greener choice for your kitchen. Manufactured entirely from recycled materials, these PFOA-free, ceramic non-stick pans use 88% fewer carbon dioxide emissions. With handles crafted from recycled plastic bags, you can enjoy peace of mind that you'll be doing your bit for the planet by choosing an Earth Pan.
If you're looking for a bargain, why not head over to our online non-stick pan set sale? At Prestige, we're always looking for ways to help you make the most out of your cookware.
That's why we've included an impressive range of products with exclusive cookware offers and discounts to help you to find a the perfect non-stick frying pan. Alternatively, if you'd prefer to mix and match instead of choosing one of our pan sets, you can still benefit from 15% off your order when you create your own pan set on our website.
Non-stick pans boast more than a handful of benefits to help make cooking at home convenient, simple, and enjoyable. Do you have any favourite recipes or top tips to share? Let us know in the comments section, or don't hesitate to contact us if you have any questions.