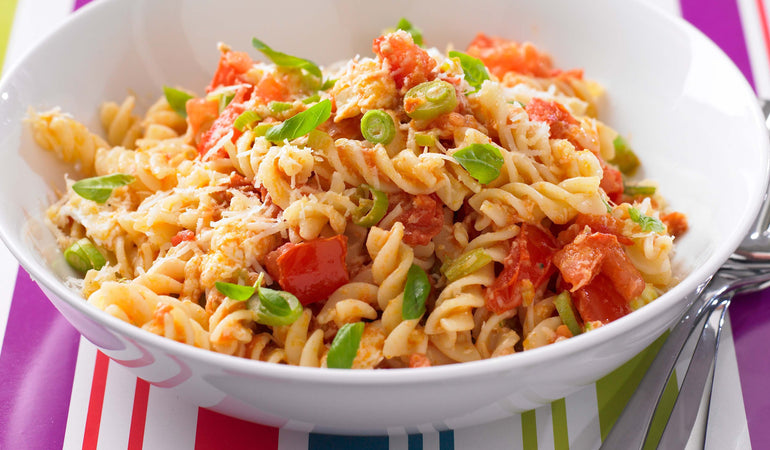 Easy Peasy Pasta
1 March 2016
Any meal that can be cooked in just one pot is most welcome in a busy household where time is of the essence. Our no-cook tomato sauce may cut down on time but it certainly doesn't cut down on taste. If your store cupboard has the basic essentials it can be whipped up in no time.
Ingredients
500g pasta of your choice
2tsp sundried tomato paste
1 tsp red chilli flakes or l/2 red chilli
seeds removed & flesh finely chopped (optional)
2 large handfuls grated parmesan
Two handfuls of fresh basil leaves
Instructions
1Cook the pasta, according to the packet's instructions, in the 24cm Stockpot
2While the pasta is cooking, chop the tomatoes into small pieces and tear the mozzarella into small strips
3When the pasta is cooked, add the tomatoes, mozzarella, spring onions, tomato paste, chilli flakes, basil and parmesan and stir to mix everything together
4If you like your mozzarella melted, pop the pan back over a low heat for a couple of minutes
5For meat lovers, try adding cooked meats such as salami, parma ham or baked ham.