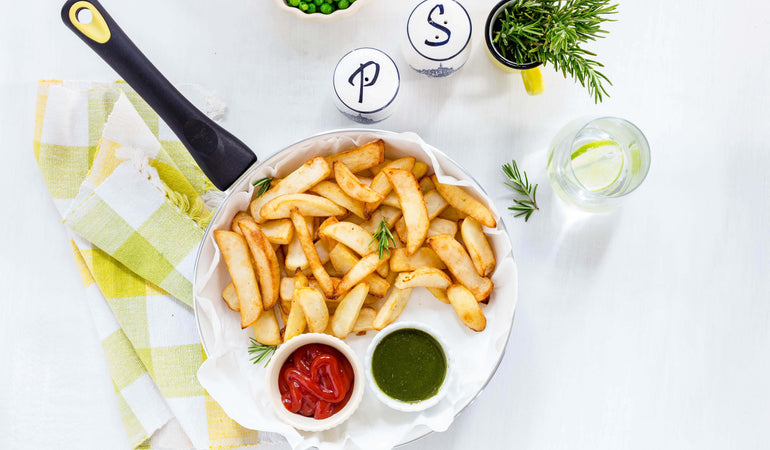 Home Cooked Chips
30 January 2017
Nothing beats the perfect, twice cooked, crunchy on the outside, soft and fluffy in the middle home cooked chips recipe. They are very easy to make and don't require a deep fat fryer.
Preperation Time
5 Minutes
Cooking Time
30 minutes (plus 10 minutes cooling time)
Ingredients
2 Large Maris Piper Potatoes
Vegetable oil for deep frying
Instructions
1Peel the potatoes and cut them into equal sized long chips
2Rinse them in plenty of cold water to remove the starch and pat them dry
3Add enough oil to the frying pan till it is half full and heat the oil
4When the oil is hot approximately 130C, cook the chips in batches, turning regularly for about 7-8 minutes till cooked through but not brown
5Remove the chips from the oil with a slotted spoon, set aside on a tray and repeat for the rest of the chips. Switch of the heat from the oil and let the chips cool for about 10 mins
6Reheat the oil and then cook the chips in batches for about 5-6 minutes until they are crispy golden on the outside
7Season them with salt and serve with dipping sauces
8Note : hot oil is dangerous so please be careful when frying your chips and never ever leave it unattended.