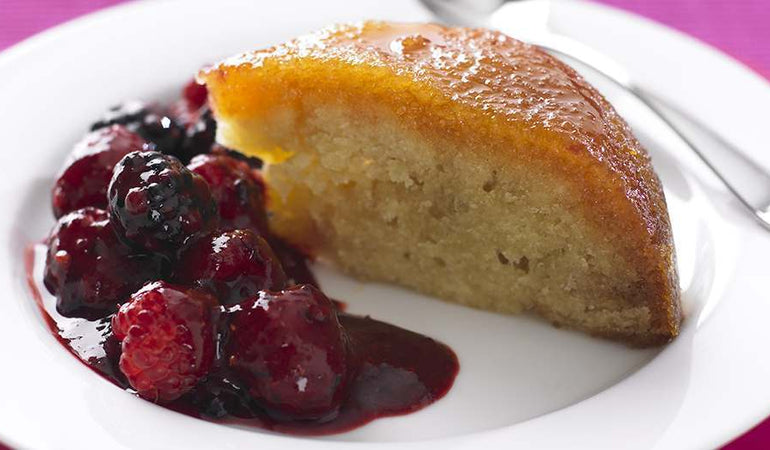 Pressure Cooker Lemon Steamed Pudding
11 March 2016
Our sumptuous, syrupy lemon pudding uses mostly everyday essentials and only takes 45 minutes to cook, rather than the usual two hours of steaming normally required. That is just one of the benefits of pressure cookers; they cut cooking times by up to two thirds, making life that little bit easier.
Ingredients
500g mixed fresh berries including blackberries raspberries & blueberries
110g butter plus a little extra for greasing the bowl
Finely grated zest of 2 lemons and 1 orange
Greaseproof paper and string
1 tbsp icing sugar or caster sugar
Instructions
1Butter an 850ml pudding basin and pour the golden syrup into the bottom of the bowl
2In a large bowl cream together the butter, sugar and zest, then add the eggs and beat well before mixing in the flour gently. Spoon on top of the syrup
3Cover the top of the bowl with a double layer of greased greaseproof paper and secure in place by tying with string, ensuring you create a secure string handle for lifting out safely
4Pre-steam the pudding for 10 minutes by putting the lid on the pressure cooker but not cooking under pressure. Then turn the pressure regulator to 12 and bring up to pressure, cook for 35 minutes. Release the pressure slowly
5Meanwhile, blend half of the berries until smooth, then stir in the sugar and whole berries
6Serve berries either warm or at room temperature with the pudding. Use frozen berries if you can't get hold of fresh. De-frost before blending otherwise they will stick together.
Cooking hearty puds doesn't need to take hours, invest in a
Prestige pressure cooker
today and save time and energy on your meals.