Non-Stick Baking Tins, Trays & Bakeware Sets
Looking for new bakeware? At Prestige, all of our baking trays, cake tins and oven trays are non-stick, for effortless results with every bake. Whether you're attempting your first loaf, baking your weekly fruit pie or perfecting another batch of muffins, we've got you covered.
Browse the full online selection below - and don't forget that you'll save 15% when you choose three or more of our specialist baking tins. If you'd like to learn more about our collection of beautiful baking trays and oven tins, read our handy FAQ section at the bottom of the page.
Read More
Read Less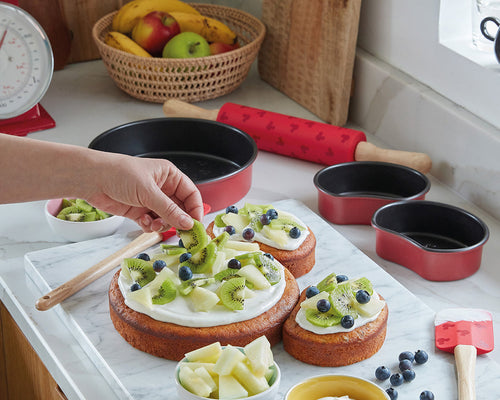 Bakeware FAQs
Navigating the world of bakeware can feel overwhelming - especially if you're only just expanding your repertoire in the kitchen. To help to get you started, we've explained a little bit more about each of the different types of baking trays and tins below.
Baking trays
A flat baking tray should be a staple feature in any kitchen. Simple yet incredibly versatile, it can be used time and time again for a wide array of different recipes.
Whether you're planning to get ambitious with new techniques or stick to your old favourites, make sure that you choose the right size to fit the dimensions of your oven. We stock large and small baking trays online and, with one of our

baking tray sets

, you'll get the best of both worlds.
Muffin tins
Purpose-built for muffins and cupcakes, choose one of our non-stick muffin tins to help you to bake those delicious homemade delicacies. Alternatively, if you're feeling inventive, you could try making smaller pies, frittatas or even your favourite Yorkshire pudding recipe.


Cake tins
The name is a giveaway but a non-stick cake tin is essential if you'd like to bake cakes. You'll find round and square-shaped cake tins for sale online with Prestige, with multiple styles and sizes from which to choose.
With Springform cake tins, you'll be able to loosen the tin once your cake cools for those picture-perfect edges.
Loaf tins
Loaf tins are specifically designed to help you to bake deep, narrow cakes. Whether you're perfecting your banana bread or making a warming ginger loaf for the weekend, make sure that you choose the tin carefully.
If you're thinking about baking a cake in a loaf pan, just be certain to line the bottom of your tin with greaseproof paper first.
At Prestige, we know that the right baking tins can make you feel more confident in the kitchen. That's why we've developed a collection of beautiful, durable baking trays and non-stick bakeware to make cleaning up more convenient than ever before.
Non-stick bakeware makes cooking simple. Our innovative technologies ensure that food slides off the tray, so you'll never need to spend hours scrubbing at the sink - or say a sad goodbye to a stuck-on cake.
With four exclusive collections available, you'll find just the right baking tin for each of your favourite recipes right here.
We have cake tins for every kitchen in our online collection. Whether you're only just learning how to bake or perfecting the ultimate meringue, it's crucial to use cookware that allows you to enhance and improve your skills. Our four bakeware collections include:
Aerolift
If you're looking for quality bakeware at a friendly price point, Prestige cake tins with Aerolift technology could be the ideal choice. With a uniquely cushioned base, these tins are specifically designed for improved airflow and browning.
Our Aerolift 4-Piece Baking Set features three cake tins and a 12-hole muffin tin, all complete with a five-year guarantee - and our superior non-stick coating.
Easy Release
Our Easy Release cake tins are designed to make life convenient. With a premium non-stick surface, you'll effortlessly remove cakes, quiches and pies from the tin. What's more, with freezer-to-oven capability, you'll be able to heat your treats from frozen.
Inspire
With our innovative CushionSmart™ non-stick interior, Prestige Inspire cake tins ensure that your baked goods turn out perfect every time. We have non-stick brownie tins, loaf tins, muffin tins, quiche tins and more in the Inspire collection, ready for your best bakes yet.
Nadiya Hussain
We've teamed up with Nadiya Hussain to bring you a new and exclusive bakeware collection. Each piece has been extensively developed to prioritise both beauty and practicality. With a stylish, gold non-stick coating, a raised pattern on the cooking surface also improves airflow and release.
Our cleverly designed Nadiya 4-Piece Bakeware Set is the perfect choice for any aspiring or experienced baker. Made from durable yet lightweight heavy-gauge steel, this lovely set comes complete with:
At Prestige, we know that you'll be looking for great-value, durable bakeware.
Our exclusive selection of non-stick baking trays and cake tins has been thoughtfully curated to make sure that your cookware lasts you for years to come. Plus, if you select three or more cake tins from our bakeware selection, you'll get 15% off!
If you're looking for special offers and great deals on cookware, our Item of the Month could be that missing piece in your kitchen. Don't hesitate to get in touch to learn more about our fantastic bakeware - or if you'd like us to answer any queries that you might have about your order.