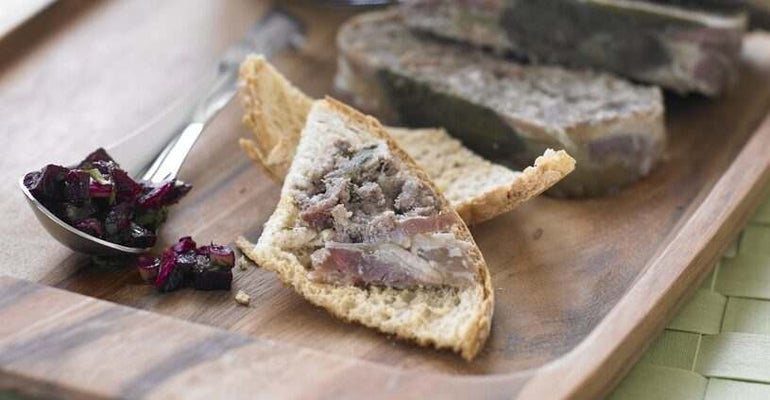 3 Pork Pâté With Melba Toast And Beetroot Salsa
29 November 2019
Entertaining friends and family is fun and so is serving up something a tiny bit delicious. Serve up a snack that they'll all want the recipe for instead of relying on dips, like a coarse '3 pork pâté' with Melba toast and beetroot salsa.
Preperation Time
20 minutes
Ingredients
12 rindless lightly smoked streaky bacon rashers
250g pigs liver (ask your butcher to remove the membrane and tough ventricles)
2 slices wholemeal bread - made into breadcrumbs
peeled and very finely chopped
Freshly ground black pepper
Large pinch freshly grated nutmeg
2 tbsp brandy or port - optional
Instructions
1Preheat the oven to l70'C/325'F/gas mark 3. Lay enough sage leaves to make a row along the middle of a 1lb loaf tin and then rest about 8 or 9 bacon rashers on top of the sage, slightly overlapping, to line the tin
2Cut the remaining bacon into small pieces and finely chop the remaining sage leaves and put them into a bowl. Trim the pig livers and chop these into really small pieces and add to the bowl
3Add the minced pork, breadcrumbs, onion, garlic and nutmeg (and port if using) and mix everything together really well
4Push the mixture into the loaf tin, cover with greased foil and put into a roasting tin. Half fill the roasting tin with boiling water and then cook for 1 1/2 hours
5To test if the pate is cooked push a skewer into the pate and if the juices are at all pink then you should cook for another 15 minutes. Leave to cool in the tin and then put into the fridge overnight
6For the Melba Toast,Turn the grill on inside your oven or if you don't have a grill, turn the oven on to l80'C/350T/gas mark 4
7Rest the bread on a baking tray and toast the bread on both sides under the grill
8Cut each slice of bread in half widthways so that you have twice as many thin slices and cut each thin slice into quarters (4 triangles) and put back on to the baking tray
9Toast for a minute or until the edges curl up slightly
10For the Beetroot Salad,Chop the beetroot into small pieces. Chop the spring onion into small pieces. Put the beetroot, onion and parsley into a bowl and mix together. Add the lemon juice and olive oil and season to taste
11Serve the pate with the beetroot relish and Melba toast.