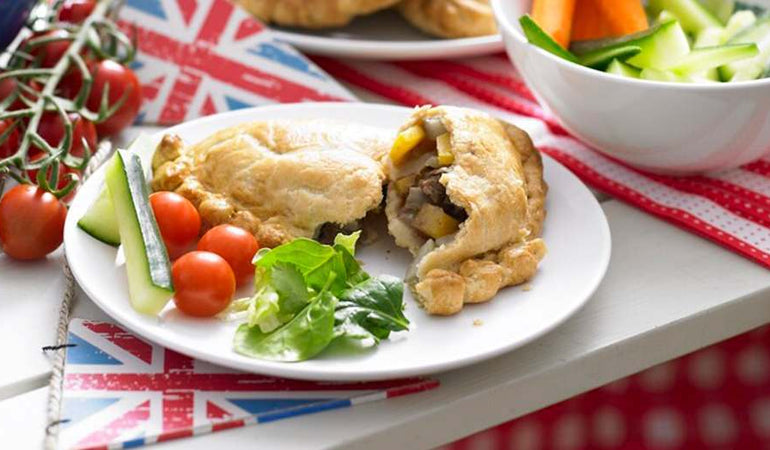 Beef & Potato Pasty
29 February 2016
The humble pasty is renowned the world over for being part and parcel of the great British seaside. However, it's not only those that grow up on the South Coast that can vouch for being fabulous pasty makers - this simple recipe could be enjoyed even by the most Cornish of Cornish, (although this recipe does have its roots in Cornwall!). We have cheated slightly and used a bought shortcrust pastry to help keep the preparation time down, but you could always make your own pastry if you prefer.
Ingredients
375g packet shortcrust pastry
1 small swede (about 200g)
300g braising or chuck steak
peeled and finely chopped
Instructions
1Cut the potato and swede into small cubes (they need to be small and even sizes so that they cook evenly)
2Sprinkle a little flour over the worksurface. Roll out the pastry to about 3 mm thickness
3Using a side plate cut out 4 circles
4Put some chopped swede and potato on one half of the pastry
5Then sprinkle some onion over the top, followed by the meat and repeat these layers - be careful not to have too much filling or you won't be able to seal the pastry!,Season with freshly ground black pepper and add a small knob of butter, this helps to make gravy
6Brush a little beaten egg around the outside of the pastry circles (this will help it stick together). Fold the other half of pastry over the filling and squeeze the half circle edges firmly together
7Now for the fun bit - crimp the pastry together using your first finger and thumb/turn the edge over to form a crimp - keep doing this all the way along the pastry to help seal the pastry together. The crimping will come with practice. The important thing is to have a good seal
8Brush the pasty with the beaten egg (to help it go golden) in the oven. Bake for 20 minutes in the oven on a baking tray, lower the oven temperature to 150°C/300°F and cook for another 25 minutes.