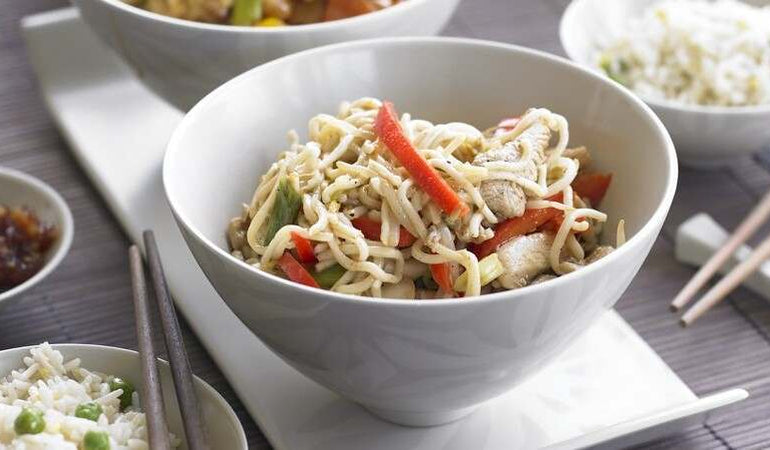 Chicken Chow Mein
6 January 2019
There's something irresistible about a Chinese takeaway and if you choose wisely it can be a relatively healthy option. The food is usually cooked quickly, and at a high heat, meaning it retains its nutrients - and its flavour too. If you've never tried cooking Chinese cuisine, then you may be surprised to see how easy, fun and cheap it can be. Best of all, it's 'fast food' in the purest sense - meaning you can whip up a banquet in less time than it takes to place and collect a take-away order!
Ingredients
300g dried egg noodles - cook according to the instructions on the packet and then toss in 1 teaspoon of ground nut or sesame oil to prevent sticking.
3 large chicken breasts - cut into thin strips
1 tablespoon dark soy sauce
2 teaspoons Chinese Five Spice
1 dessertspoon chilli sauce (optional)
11/2 tablespoons cornflour
2 tablespoons groundnut or sunflower oil
2 red peppers - thinly sliced
1 packet (approx 300g) beansprouts
1 small bunch of spring onions - trimmed and sliced
4 tablespoons light soy sauce
Instructions
1Put the chicken in a large bowl and add the dark soy sauce, Five Spice and - if desired - chilli sauce. Stir and leave to marinate for 15 minutes then sprinkle in the cornflour
2Heat the oil in a wok over a high heat and stir-fry the chicken for about 5 minutes until golden brown and cooked through
3Now add the red peppers, beansprouts and spring onion, stir fry for a few more minutes and then add the noodles. Pour over the light soy sauce, stir well and serve.