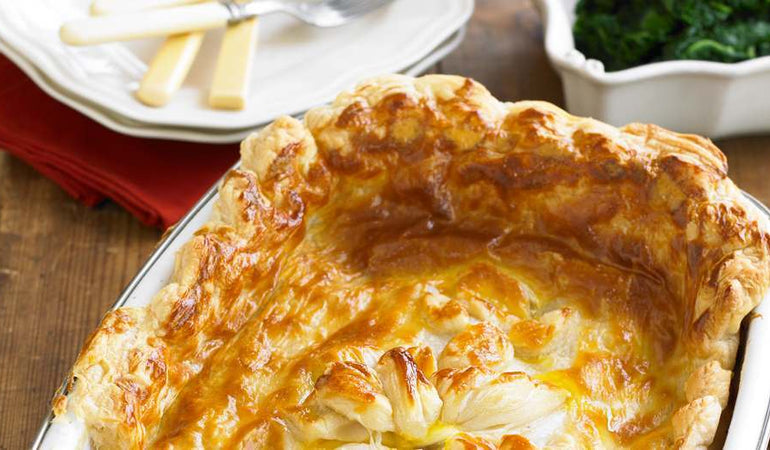 Chicken, Leek & Mushroom Pie
3 January 2018
A roast chicken dinner with all the trimmings is still the national favourite. But what happens to the leftovers? Here's how to make the most of delicious leftover roast chicken with a heart pie recipe. Once you've cooked and enjoyed your roast chicken remove all the leftover meat from the bones. You will be surprised at how much is left.
Ingredients
8oz (225g) mushrooms - quartered
4 level tablespoons plain flour
11/2 tablespoons of wholegrain
1 packet of ready made puff pastry
Instructions
1Cut the chicken into mouth sized pieces and place in a roasting tray
2Reduce the chicken stock in a saucepan over a high heat until about 1 pint (570ml) remains
3melt the butter in a saucepan and fry the leek and peppers for 5 minutes over a gentle heat. Add the mushrooms and thyme and cook for a couple of minutes
4Blend the flour into the vegetables and slowly add the stock, stirring all the time. When it has thickened, boil for 1 minute and then add the mustard and season with salt and pepper. Spoon over the chicken and allow to cool
5Now, roll out the pastry. Cut 4 thin strips, dampen the edges of the baker and place the strips around the edge. Cover the pie with the pastry and decorate with any cut offs
6'Knock-up' the edges of the pastry to seal the join and then glaze with a beaten egg. Place on a baking sheet and cook in the oven 200°C/180°C Fan/Gas mark 6 for 30 minutes
7Reduce the heat to 170°C/150°C Fan/Gas mark 3 and cook for a further 30 minutes. If the pastry gets too brown, loosely cover with foil to protect it.