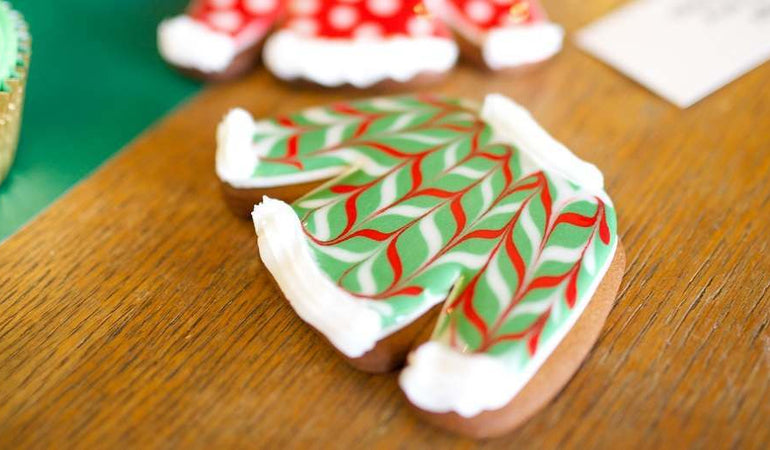 Christmas Jumper Cookies
3 December 2019
Follow our delicious recipe below on how to make Christmas biscuits to get in the festive spirit! This creative guide on how to decorate Christmas cookies means you can bake really effective festive staple this year, whilst having great fun! The gingerbread cookies can last for several weeks if kept well wrapped, so you can enjoy a little Christmas cheer well into the New Year.
Ingredients
16 cookies; you can buy ready-made jumper cookies or make them yourself using a cutter or a card template to cut around.
2 tbsp. soft peak royal icing
2 tbsp. stiff peak white royal icing
Approx. 250-300g of runny royal icing in White
Christmas Red & Party Green Fill disposable plastic piping bags and just snip a small hole for the icing to flow from.
Instructions
1Use a piping bag with a small, non ridged nozzle. Using the white soft peak icing, begin piping a line around the edge of each cookie shape. It's best to start at the top and work towards yourself. Begin squeezing the bag at your starting point and lift the piping bag up and allow the icing to flow out slowly. Continue in one direction to complete the outline around each shape
2Once each shape is outlined, you can now begin 'flooding' the inside of the shape with your coloured royal icing
3To make a polka dot jumper, flood with one base colour and then, using a different icing colour, work above the cookie and allow little blobs to drop into the background colour. Space them out as equally as you can
4For the stripy argyle style jumpers, flood with one base colour and then drop over horizontal lines, first with your red and then white, to create the stripe
5With the cocktail stick, begin on one side of the cookie and sweep through in one motion, up and down in vertical lines through the cookie lines, this creates a marbled pattern effect, that looks really effective on this design. It's really easy, just keep going until you get to the other side of the cookie
6Once you've finished step 2 on all of your cookies, pipe using the stiff royal icing along the bottom and along the cuffs of the jumpers using a star nozzle and piping bag. Begin on the bottom "hem" of the jumper and, using a firm steady pressure, pipe a slightly wavy line to fill up the bottom of the cookie to create the finished fur effect, keeping the nozzle close to the cookie. Repeat this technique on the sleeves. Leave these to dry overnight and then wrap or serve as required.