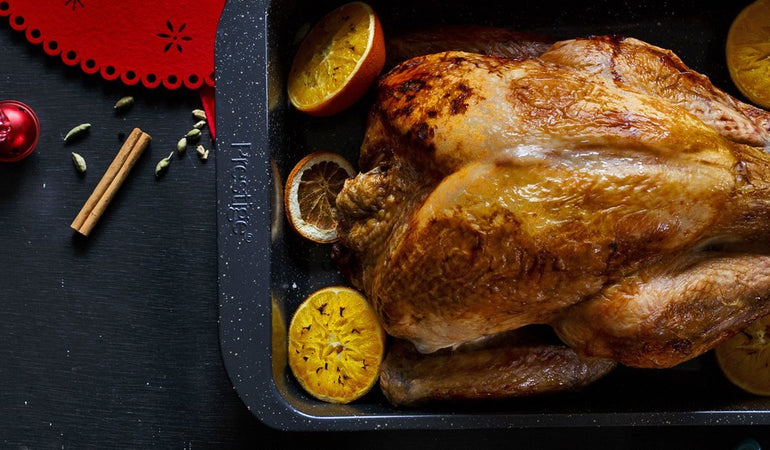 Festive Roast Turkey
3 December 2019
Want to know the perfect way of how to cook Christmas turkey? Use this classic roast turkey recipe on how to prepare Christmas turkey to cook a show-stopping centrepiece for a Christmas dinner, Thanksgiving feast or any festive special occasion, perfect for when all the families over to celebrate the season!
Preperation Time
10 minutes
Cooking Time
3 hour 20 minutes
Instructions
1If using a frozen turkey then thoroughly defrost it before use
2Take the turkey out of the fridge at least an hour before cooking to bring it up to room temperature. Remove and discard the giblets from the cavity of the bird
3Preheat the oven to its highest setting
4Place the turkey on the roasting tray breast side up, season the inside generously with salt and pepper. Then rub more salt, pepper and oil onto the skin and cover the turkey with foil
5Place the turkey in the oven and immediately turn down the heat to 180C / gas 4 and roast for 3 hours, basting the turkey with juices approximately every 30 minutes
6To check if your turkey is done insert a skewer into the deepest part of the thighs. If the juices run clear then it is done. If the juices are still pink then return the turkey to the oven for 20 minutes and test again. Repeat this until the juices run clear
7Then increase the oven temperature to its highest setting, remove the foil and let the turkey roast for a further 20 minutes to brown in all over
8Take the turkey out of the oven and carefully tilt the tin so that all the juices inside the cavity run out
9Transfer turkey to a serving plate, cover with tin foil and let it rest for at least 20 minutes, ideally a bit more before you start carving.