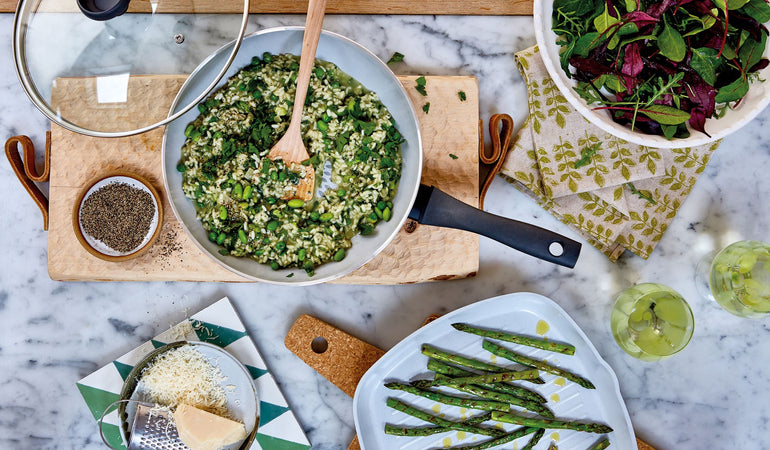 Fresh Green Risotto
16 March 2021
Introducing a fresh green risotto, a delicious and vibrant dish that is perfect for spring and summer. This risotto is bursting with the fresh flavours of asparagus, beans, peas, and spinach, and finished off with a zing of lemon juice and grated parmesan. The creamy Arborio rice is cooked with a combination of white wine and simmering vegetable stock, resulting in a luxurious texture that is comforting and satisfying. This vegetarian dish is easy to make and perfect for a light lunch or dinner. Let's get started!
Instructions
1Warm your stock in a saucepan and keep it simmering gently. Add the asparagus to the simmering stock for 2 minutes before removing with a slotted spoon. Set these aside
2 Heat oil in your frying pan. Add crushed garlic and rice and stir until the rice is fully coated in oil
3 Add wine to the stock, then add a ladleful of the simmering mix to the rice. Stir continuously. Once the liquid has been absorbed add another ladleful. Continue this process a ladle at a time and cook the risotto for around 20 minutes. Leave around 200ml of stock in your saucepan
4 Add the beans, peas, chopped spinach and lemon juice to the risotto with another ladle of stock and continue to stir. Add more stock now if necessary. Add parmesan
5 Season to taste with salt and pepper. Serve while hot topped with grated parmesan and pea shoots.