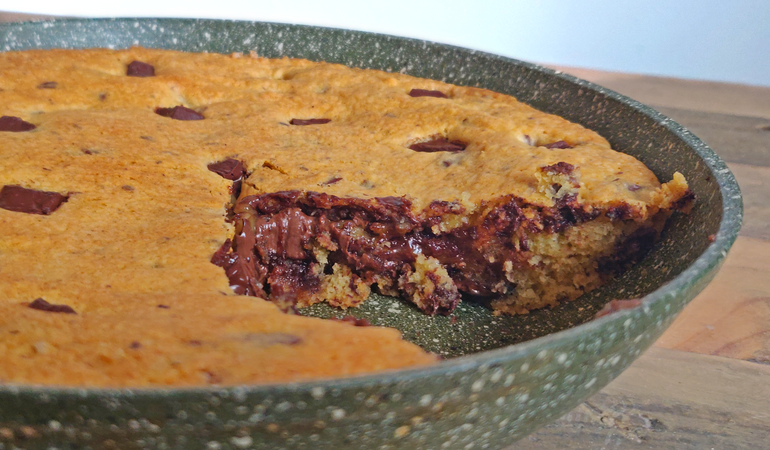 Giant Frying Pan Cookie
3 February 2021
This gigantic, chocolate chip, Nutella stuffed, frying pan cookie is the dessert of your dreams. Definitely one to try with any of our frying pans. Our Eco frying pans are oven safe up to 150ºC.
Ingredients
75g chocolate chips (plus extra for decorating)
Instructions
1Add the butter and sugars to a mixing bowl and mix well for 2-3 minutes until pale and fluffy
2 Add your egg to the mix and whisk well
3 Sift your flour and baking power, and fold in gently
4 Mix in chocolate chips saving a handful for decoration
5 Halve your batter, adding one half into your Prestige frying pan. Our superior non-stick means there's no need to grease the pan first
6 Spread the batter into the whole base of the pan and then spoon your Nutella on top, leaving about a 2cm space at the edge
7 Now add the rest of your batter mix on top ensuring the Nutella is completely covered
8 Place into the oven at 150ºC for 30 minutes or until golden brown. Please ensure your frying pan is oven safe before use. Our Eco Frying Pan is oven safe up to 150ºC
9 Once your cookie is golden leave to rest for 10 minutes before cutting.