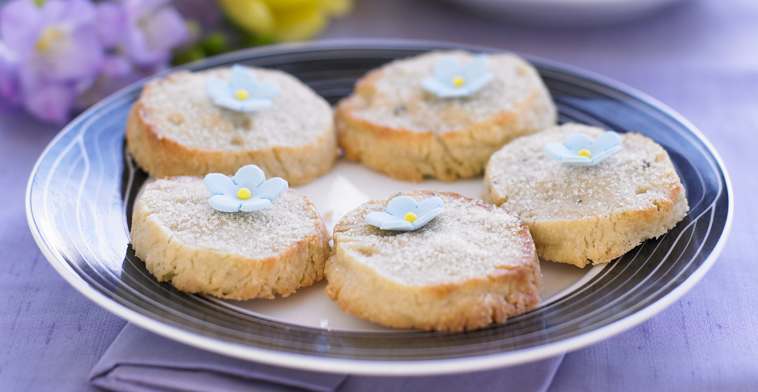 Jasmine Tea Shortbread
1 March 2016
Tea is such a British institution, that we're practically hard-wired to turn to a cuppa in times of need. It's all because of the theanine in the tea - an amino acid that's well known for its relaxation properties. We can't have a good cup of tea though without recommending a quick biscuit recipe, this shortbread uses tea leaves for flavour.
Ingredients
2 teaspoons of Jasmine tea leaves - rub between your fingers to break the leaves up a bit
4 level tablespoons rice flour
Extra golden sugar for sprinkling
Instructions
1Preheat the oven to gas mark 5/190°C
2Melt the butter in a saucepan with the jasmine tea leaves and heat through for a minute or so, then set aside to infuse for 10 minutes
3Strain the butter through a sieve into a mixing bowl, then take 1/2 teaspoon of the tea leaves and add back into the butter - place in the fridge to set
4Sieve the flour into a mixing bowl, add the sugar and then work in the cooled butter with your fingertips. Knead well and then roll into a sausage. Wrap in cling film and put into the fridge until firm
5Unwrap and slice into 1/2 inch thick discs. Place them cut side up on some greaseproof lined baking sheets
6Sprinkle with a little more golden caster sugar and bake in the oven for about 15-20 minutes until a pale golden brown
7Leave on the baking sheet for a few minutes to firm up and then place on a cake rack to cool, before serving with hot tea and gossip!