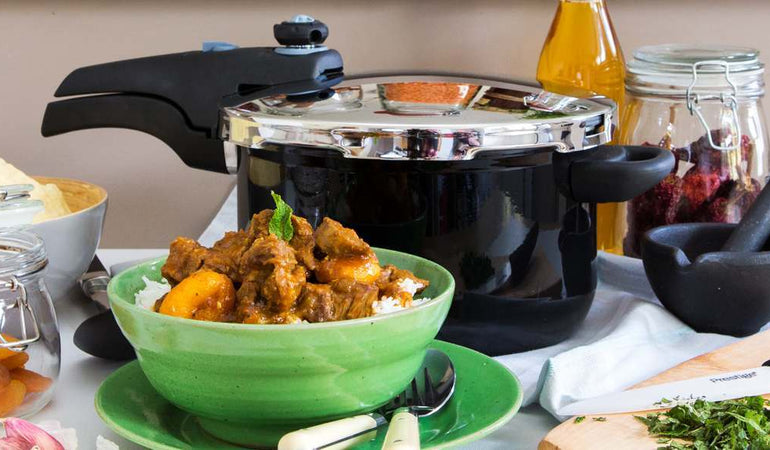 Pressure Cooker Lamb & Apricot Curry
4 January 2019
This pressure cooker lamb and apricot curry is the perfect recipe for a quick and delicious meal. With the use of a pressure cooker, this lightly spiced and fragrant curry can be cooked in half the time it would take using traditional cooking methods. The recipe features tender lamb, but can easily be made with chicken thighs as an alternative. The fruity blend of apricots and savory spices create a perfect balance of flavors. This curry is sure to become a new favorite in your recipe collection.
Main course

Pressure cooker

Recipe
Preperation Time
15 minutes
Ingredients
7 cardamom pods-seeds removed
800g diced lamb shoulder or neck trimmed of fat
3 cloves garlic finely chopped
2.5cm piece fresh ginger grated
½ tsp dried chilli flakes or extra to taste
Salt and freshly ground black pepper
Basmati rice and poppadoms to serve
Instructions
1Put the cloves, cumin and cardamom seeds in a dry frying pan and toast over a medium-low heat for 2 minutes or until the spices start to smell aromatic; toss the pan occasionally to prevent the spices burning. ,Grind the spices to a powder in a pestle and mortar or mini food processor. Leave to one side
2Heat half the oil over a medium heat in a pressure cooker
3Add half the lamb and cook for 6 minutes until browned all over. Remove the lamb with tongs and brown the second batch of lamb
4Remove the lamb from the pan, add the onions and cook for 6 minutes, stirring often, until softened
5Return the lamb to the pan with the garlic, ginger, ground spices and bay leaves and fry for another minute
6Add the stock, tomato paste, chilli flakes and apricots and stir until mixed together
7Put the lid on the pressure cooker, bring to 12lb pressure then turn the heat down slightly (although you should still hear the pressure cooker hiss) and cook for 25 minutes
8Release the pressure quickly and serve the curry with rice and poppadoms.