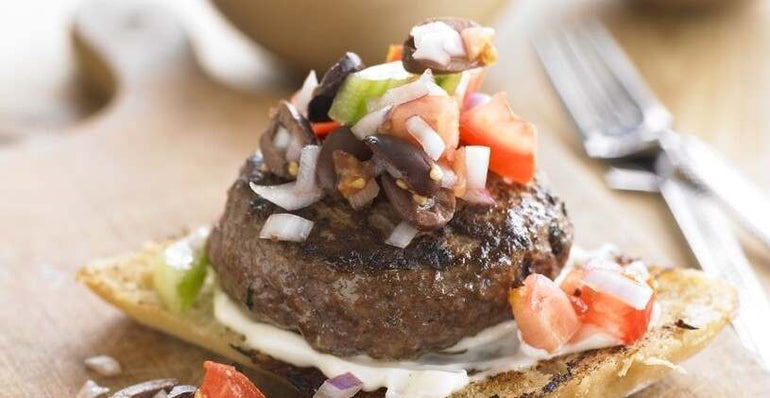 Lamb Burger with Greek Salad
30 June 2019
Burgers have come a long way in the last couple of decades. For the most part, they used to reside in the freezer departments at supermarkets, next to the frozen fish, occasionally making a break for it during the summer BBQ season! These days burgers are bigger and better than ever before and often come with a price tag to match - unless of course you make your own.
Ingredients
1 tablespoon of fresh mint - chopped
1 cucumber - peeled and sliced
100g black olives - stoned
3 tablespoons Greek olive oil
1 tablespoon cider vinegar
1 teaspoon of Greek honey
4 thick slices of rustic bread
Instructions
1Put the lamb, crushed garlic, mint, chopped olives, tomato purée and seasoning in a mixing bowl and stir well. Now mix the feta cheese with the thyme - it doesn't matter if it crumbles a little. ,Take a quarter of the lamb mixture in your hand and roll into a ball. Flatten out, put a quarter of the feta in the middle and then draw the meat up around it. Make sure the cheese is secure and sealed within the meat. Repeat with the other three burgers and then place in the fridge for 10 minutes. ,In the meantime, make the salad by mixing the cucumber, tomatoes, red onion and olives in a bowl. Season with black pepper and then blend the olive oil, vinegar and honey together and pour over the salad. Now rub the garlic clove over each slice of bread and sprinkle with olive oil. ,Heat a griddle pan and cook the bread on both sides until brown. Keep warm. ,Next, place the burgers in the heated griddle pan and cook for 5 minutes on each side. To assemble the sandwich, spread the mayonnaise on the toasted bread, top with a burger and pile high with the dressed salad.