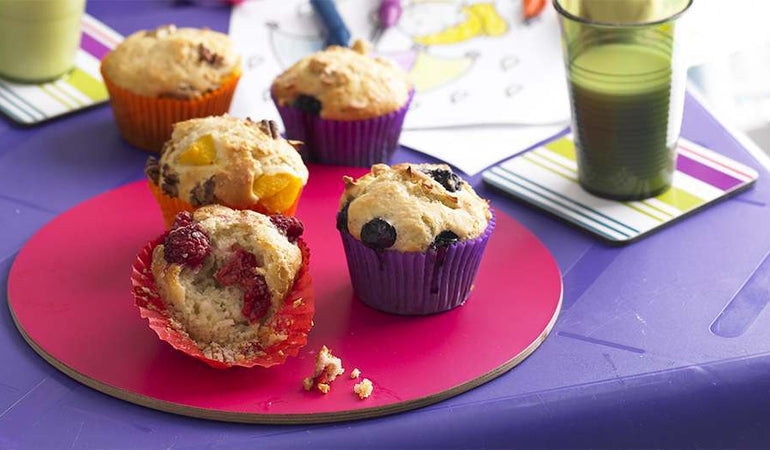 Pick n Mix Muffins
7 July 2016
Who can resist a freshly baked muffin that has come straight out of the oven? A favourite with both parents and children, these muffins are easy enough for children to bake and versatile enough for everyone to choose their own ingredients. The basic muffin mix is made entirely from everyday essentials so you can then take your pick when it comes to adding your favourite ingredients.
Preperation Time
20 minutes
Cooking Time
20-30 minutes
Ingredients
Fresh raspberries or blackberries
90g light soft brown sugar (or you could use golden caster sugar)
100ml natural yoghurt (if you don't have yoghurt you could use milk)
A few drops vanilla extract
50ml sunflower oil (you could use melted butter if you prefer)
Demerara sugar to sprinkle over the top of all the muffins
Instructions
1Preheat the oven to 175°C/350°F/gas mark 4. Put paper cases into 12 cup muffin tray
2Sieve the flour and baking powder into a large bowl, add the sugar and mix together
3Measure the yoghurt into a jug and then measure the milk into the same jug
4Crack the eggs and whisk with a fork in a separate bowl, then add ihe eggs to the yoghurt and milk mixture with the oil and vanilla extract
5Pour the egg mixture straight into the flour
6Quickly and gently mix everything together - this should not take long, don't over mix or your muffins will not be light - the mixture should look lumpy and slightly uneven, this is how it is supposed to look
7Spoon the mixture directly into the tray or cases if using these. Then add the chosen fillings
8Sprinkle some Demerara sugar over the top and bake for 25-30 minutes or until well risen and golden brown. Leave the muffins to cool slightly before taking out of the tin and leaving to cool on a rack. Make sure the ingredients are pushed under the muffin mixture to prevent burning.