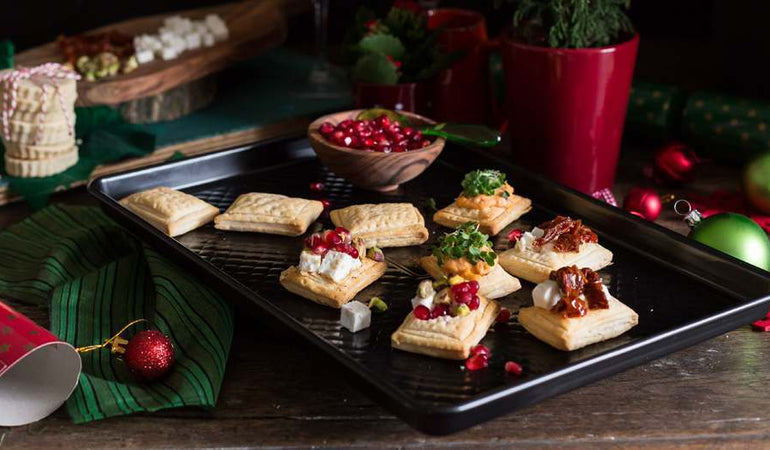 Puff Pastry Party Bites
8 December 2019
These puff pastry bites make a stunning festive snack or starter. Guest will have a lot of fun mixing and matching their own toppings. A quick and easy crowd pleaser for your new years eve party.
Preperation Time
20 (10 min chill time)
Ingredients
2 X 35 cm by 23 cm puff pastry sheet thawed
100g shelled pistachio nuts
Seeds from one pomegranate
1 pot roasted pepper hummus
1 small tub of salad cress
Instructions
1Preheat the oven to 200C / gas 6
2Unroll the first puff pastry sheet on a lightly floured surface and cut into 20 equal rectangles. Score each rectangle approximately 2 mm from the edge and prick dough pieces with a fork. Arrange the pieces on a lined baking tray and put into the fridge to chill for 10 minutes. Repeat with the second piece of pastry
3Place pastry bites in the oven and bake for 15 minutes or until lightly golden
4Remove pastry bites from the oven and top with feta cheese, pistachio and pomegranate; feta cheese and sundried tomato or roasted pepper hummus and salad cress.