Pressure Cookers
Say goodbye to hours of cooking time with our famous Prestige Pressure Cookers, helping you to save energy and cut costs on bills.

As well as being incredibly easy to use, Prestige UK's Pressure Cookers promote healthier, wholesome meals by keeping nutrients tightly locked in. Our iconic line of Pressure Cookers remains a firm favourite amongst all kinds of chefs across the globe, helping to cook meals up to 70% faster! We also have handcrafted Stainless Steel Pressure Cookers, suitable for Induction Hobs!

Even if you've only got a compact kitchen space with which to work, choosing to buy a small pressure cooker could be a fantastic investment. You could transform your cooking experience with a Prestige pressure cooker, taking all the hassle out of your favourite recipes and turning a formerly time-consuming task into a tasteful delight.

We've seen consistent, excellent results from cooking with Pressure Cookers, and we know that you will too. If you're feeling inspired to try a new method or two, why not browse our comprehensive range below? 


Read More
Read Less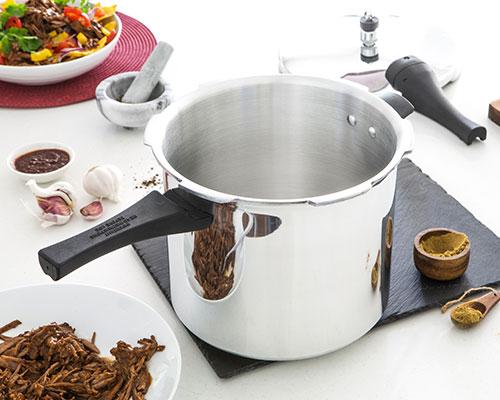 Pressure Cooker FAQs: How do they work and how do you use them?
Prestige UK stocks a unique selection of Non-Stick Pressure Cookers. Subtle differences between each model should help you to find a suitable choice regardless of your niche, so it's worth learning more about Pressure Cookers before you choose which one to buy.
Any Pressure Cooker works as a tightly sealed chamber, generating and trapping steam as its contents are heated up. As they accumulate, water molecules forming the steam start to accumulate and increase the pressure inside. Thanks to their size and versatility, Pressure Cookers are ideal for Batch Cooking, particularly through braising and stewing.
From our Twist 'n' Lock Stainless Steel Pressure Cooker to our best-selling High Dome Iconic Aluminium Pressure Cooker, all of our innovative pressure cookers share the same fundamental technologies. Durable, high-quality materials mean that all of our pressure cookers perform with unrivalled functionality and sleek design – and they're easy to clean, too.
To answer how does a Pressure Cooker work, we have created our own dedicated Prestige Guide. If you're look for a short answer however, please keep reading!
The science behind Pressure Cookers is impressive but simply achieved by the boiling point of water being dependent on air pressure.
As the pressure increases, so does the boiling point of water. By creating a much higher internal pressure than a regular pan, a Prestige Pressure Cooker rapidly accelerates cooking times without running any risk of burning the food. Plus, since a Pressure Cooker is sealed, there's little opportunity for crucial compounds that make up aromas and flavours to escape. The result? With a pressure cooker, you can quickly learn to create tasty, nutritious meals that require little-to-no interference while cooking.
A Pressure Cooker is a fantastic time-saving device, meaning that you'll never have to prepare and cook in a hurry to enjoy a nutritious meal. From flavoursome casseroles to tender, succulent meat and creamy, rich risottos, a top-of-the-range Prestige Pressure Cooker yields endless possibilities.
If you want to see a Pressure Cooker in action, watch our below video!
Our durable, non-stick pressure cookers come with locking lids so, once you've added your ingredients to the pan, you won't need to check on your food or worry about any sauces boiling over. Don't forget to use a timer: because pressure cookers are so efficient, just a couple of minutes could make the difference between perfectly cooked or quite overdone.
Before cooking meat in your pressure cooker, we'd recommend browning it in a frying pan beforehand to add a deep, robust flavour profile to any recipe. You can find out more about learning how to use your pressure cooker in our handy Help & FAQs section.
We have crafted several Pressure Cooker Recipes that you can use to make easy Meals, Desserts & even Jams! Discover our selection of Prestige Pressure Cooker Recipes below:
Pressure Cookers are intended to save cooking time and therefore operate very differently to slow cookers. We would never recommend attempting to cook meals in your pressure cooker for an extended period of time, regardless of the heat setting that you choose, nor leaving your pressure cooker unattended.
In any kitchen, it's important to ensure appropriate pressure-cooker safety at home to guarantee the longevity of your Prestige pressure cooker, keeping it pristine for as long as possible.